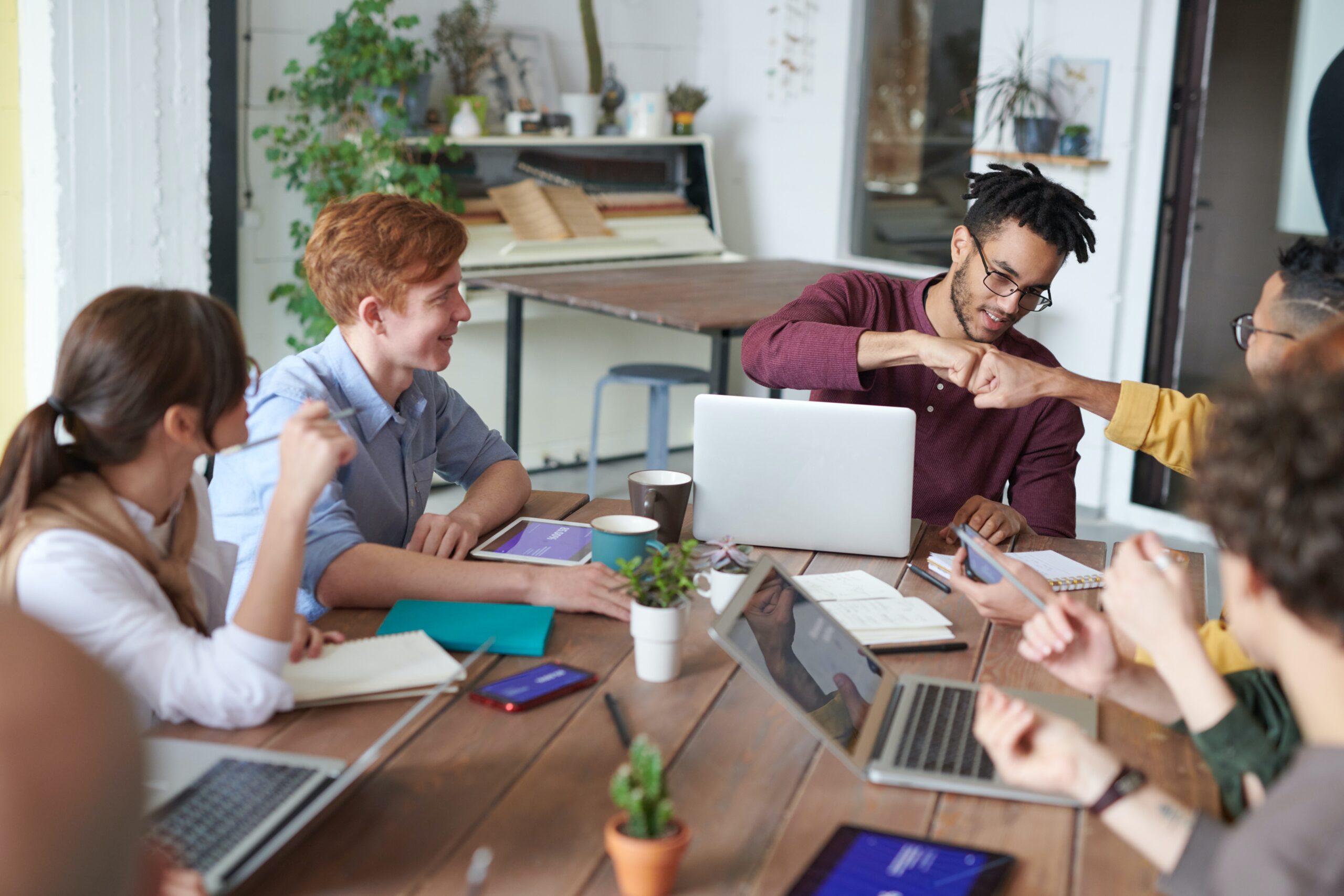 The importance of company culture
What is company culture?
Company culture is basically the shared ethos of a company through the shared set of beliefs, values and attitudes. Company culture isn't just about the table-tennis tables or the nice lunches when you're all in the office together; it's about giving all employees a voice to share their opinions or ideas and encouraging healthy attitudes and lifestyles. Many can refer to company culture as the personality of a business, as employees are essentially the culture.
Company culture isn't just something you can buy; it is formed organically; although consultants can help, it's down to trust, respect and allowing employees to participate in the shared values. Business growth is something that can occur when the company culture is vital as it provides a safe space for challenges to be unveiled that need resolving,
Why is company culture so important for your business?
Company cultures are one of the most critical parts of a business; without them, productivity levels would drop, and the quality of work produced would change. According to Forbes, companies with a better culture have 72% higher employee engagement than those with a misaligned culture. It's true that happier employees, work harder. However, an astonishing 71% of employees would leave their work if the culture began to deteriorate, so it is vital that you maintain the culture for a happy workforce.
Defines your company's identity
Your company's identity isn't just based on the branding and the products you sell; it is also about the specific culture. Your company culture can help to identify your brand's identity by intertwining its values and beliefs. For example, your best employees rely on robust and positive company culture; if they are unhappy and leave, this can tarnish the brand's image, and the service they provide to customers. On the other hand, happy employees, create excellent service, and your company's identity won't be tarnished.
Enables you to keep your best employees
Employees who feel happy and that they are part of a community are more likely to stay, which isn't surprising, with most job applicants looking for a strong company culture when applying for a job. If you ask any great employee what keeps them at their job, they will always say the culture. Higher engagement, a unique employee experience, and a level of connection are all reasons why culture is essential to your company.
Positive culture transforms your company into a team
With all employees feeling positive and motivated, this brings people together and creates a sense of a team. People are open to more ideas and can look at others' perspectives, creating a strong team dynamic. The culture created within the company will set the expectations for how people will behave, collaborate and function as a team. Quality and work output is always higher with a more vital team dynamic.
Culture has the capability to break down barriers between different departments and improve the overall workflow.
The benefits of a positive culture
Employee retention
Employee retention is an essential factor in any company, you want the vast majority of employees to stay at your company, and one of the best ways to achieve this is through a strong culture. In addition, there is more excellent morale for companies prioritising a solid culture; employees who enjoy their work environment are likelier to stay loyal to the organisation.
Reputation
A company's reputation is essential for various reasons: customers, new employees wanting to join, and the current working team. In addition, a strong reputation attracts like-minded employees and professionals. Another reason reputation is such a great benefit from a strong culture is that it allows you as a company to charge higher prices for your products and services, increasing the overall value of a company. Regardless of the cost, a customer may just want to work with a company due to the trust level that comes with a strong reputation within your business's field.
Business performance
The strong culture of a company brings better morale, which results in better business performance. Teamwork, productivity, and quality of work all contribute to improved business performance which stems from excellent company culture. When employees feel cared for, appreciated and supported, they are more inclined to work harder and reach higher in terms of the quality of work.
Satisfied customers
Satisfied customers are significant for any business, and a satisfied workforce allows for consistent, satisfied customers. When your employees are at their happiest, they are more inclined to work harder and produce higher-quality results, which provides satisfaction to customers who will want to keep coming back.
Steady growth
Steady growth in a business is crucial as it shows that employees consistently output the same quality of work. So, when the company culture is at its best and aligned with the employees, it can allow for steady, sustainable growth within a business. Likewise, if the culture is consistently positive, workflow and quality will also stay consistent, resulting in continued business growth.
How you can improve your company culture
If you find that you have a bad company culture that isn't as good as it could be, or employee retention is decreasing, and you want to improve the space that your employees work within, then these are some ways to improve the culture.
Build strong employee relationships
Building strong employee relationships is an essential and crucial step towards improving company culture. Leaders play a significant role in shaping the company's culture; if the relationship between the leader and employee isn't close, this can cause employees to feel disconnected from the business and the work they are producing. One way to build a stronger relationship is to get to know your employees on a personal level and discover their interests and hobbies; this will make an employee feel appreciated and that they aren't just viewed as a 'worker' to you.
Recognise employee's hard work
Nothing improves company culture like employee recognition. Suppose an employee has gone above and beyond or even just produced a great piece of work. In that case, it's essential to recognise this and make that employee feel appreciated, encouraging them to continue their hard work and produce high-quality work. You can show appreciation through a meal, a work social, or even something small like a thank you note goes a long way.
Regular one-to-ones
One-to-ones are a chance for you and your employee to sit and discuss anything that needs to be addressed. Sometimes, employees struggle to talk about things that are on their minds and find the right moment to share their struggles. A one-to-one allows you as an employer to ensure they are on track, provide constructive or positive feedback, and allow the employee a safe space to share any ideas, challenges, or personal elements. The outcome of these regular one-to-ones is increased productivity, motivation and overall happiness as they feel appreciated.
Allow flexibility
More employees are allowing flexibility amongst their employees as it improves overall morale and productivity levels. Flexibility can mean many things; it could be allowing a parent to step out for an hour to pick their children up from school, or simply going for a walk to get some fresh air. Flexibility shows your trust in your employees and means they can prioritise essential tasks or appointments, but still complete the work.
Identify purpose
People, in general, have a desire to find a purpose in everything that they do; this applies to their jobs. With such a large amount of our time going towards working, employees must have a purpose for this. People who believe their work matters are more likely to be engaged and motivated and want to learn more actively. You can find meaning in any piece of work that is produced, but it's up to company leaders to connect that purpose with their employees.
The key to a successful company culture
It's essential that within an ever-changing world, you adhere to the needs of employees and adapt to changes when needed. For example, after Covid-19, many employers chose to keep the working-from-home regime, as this is what their employees collectively wanted.
Values are a massive contender for a successful company culture. Your values must be authentic and durable, with employees considering and intertwining them into every business decision that is made.
Company culture isn't something that can just be changed overnight; it takes effort from all sides. The time and effort you can put into making your company culture its best are significant; speak to your employees and adhere to their needs, ensure that you get to them personally and always provide recognition for hard work.
FAQ
How can I build company culture?
Company culture is built through the actions performed by a company, not just words. Who you hire and keep, and your first impressions determine how company culture is perceived. To build a culture, you will want to think about the beliefs and values you want your company to build upon, then ensure that your employee experience reflects your values.
How can I ensure that I hire people who align with the company culture?
Company culture isn't just about the beliefs and values an organisation sets but also about the people. So it's crucial that when hiring, ensure that they will be a good fit for the company. Of course, you should take into consideration whether they can excel in your environment, but also you should ask them how they feel about the culture described, as it may not be for them either.
What are examples of good and bad company culture?
It can be hard to identify a bad culture, as every business is different, but the examples below highlight what aspects of company culture are negative.
Bad:
High employee turnover
Core values are absent, with managers not following the ones that are in place
Employees work through their lunch breaks
Negative work environment, office spaces are cramped, untidy and not clean, this can deter employees from wanting to work there.
Good:
Trust and transparency across the whole organisation
Teamwork is strong and positive
Results
Strong communication
Respect and fairness with everyone
Personalisation, employees and employers have taken the time to know you on a personal level.
GAIN LINE
GAIN LINE isn't your ordinary business consultancy, our experts guide you through a structured process to challenge you and keep you on track to make sure you come out of our process with tangible, practical actions that you and your team will buy into and have ownership of.
Our Sprint workshops take a deep dive into any business challenge within a protected and committed time-space.
If you want to overcome any business challenge in no more than two weeks, speak to our seasoned business consultancy experts on 0161 532 4449 or contact us here for a speedy response.