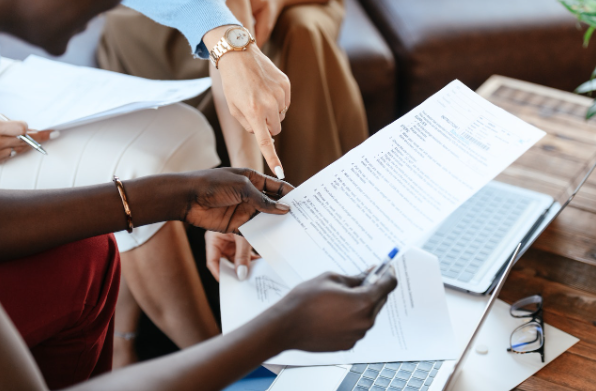 How to write a sales plan
When this is created and executed, it can aid you in the process of growing your business. The sales team can be responsible for producing the most revenue towards your business, so a plan must be put in place. This plan doesn't need to be pages and pages; it just needs to be structured with your desired business goals and objectives outlined. We've written some steps for writing your sales plan.
Define and identify your goals
The first step to any sales planning process, whether that be sales or business, is to outline and optimise your goals and objectives so that the results bring your company the best possible value.
For example, if you want to improve your profits, improve your processes or expand your customer base, you can set goals around that; at this stage, you can jot down anything that comes to mind. Once you have created these goals, share them with the rest of the team and listen to their feedback; maybe they think of a goal that could be better and more attainable; input and insight from the rest of your team is great as everyone can put in their part to achieve these objectives.
Deadlines
Once you have outlined your goals and objectives, you can start setting deadlines for these. Deadlines are a great way to ensure that those goals are met, allowing you and your team to be strict with time management. If there are no set deadlines, the work towards those goals can be put on hold or even forgotten about.
Creating smaller steps to achieve the overarching goals can be more effective, as you can stay on track and ensure that every team member is actively engaging within this process without it feeling overwhelming, especially if you want that end goal to be achieved in 6-12 months. When setting deadlines, it can be good to actually ask your sales team members how long it could take them to complete that, as they'll know more than anyone the amount of time needed.
Value proposition
You want to define your value proposition and showcase why a customer should choose your product or service over another. Take into consideration why a customer would choose your product but also why they may choose a competitor instead; from that, you can build strategies and ideas on ensuring your product stands out within the market. You want a strong value proposition that aligns with your company's culture and strengths, and offers benefits for your customers, but is also supported by in-depth market research.
Target audience
There is huge importance in ensuring that your target audience is correct for your company and the product you are offering. A lot of the time, and in some cases, money, goes into researching target audiences; whether this is the first sales plan you've written or the hundredth, you want to ensure that this part is correct and specific.
If you have a wide range of products, you might attract different demographics; this is something you must bear in mind, as one targeted customer may purchase one item compared to another targeted customer who purchases a different one. One factor to remember is that these demographics may alter over time as markets and external circumstances change. So be sure to evolve these goals and strategies to fit those potential changes.
Your position within the market
The market environment needs to be clearly outlined within a sales plan, as this will determine your next year. For example, what are your customers not liking anymore? Is there new competition? The plan must answer those questions to have a clear vision for the next year.
Team responsibilities and roles
To achieve your sales goals, team responsibilities must be defined and stated clearly within your sales plan. Determining the direction in which the sales team is heading is crucial as it gives all team members insight into the overall goal wanting to be reached, pushing the team to work effectively together to achieve this. Whether the sales team members have the same role or are entirely different, everyone should have something assigned.
Strategies
Sales strategies are vital for a sales plan; these are what your team will follow to meet targets for revenue, sales and overall goals. For example, some sales strategies could include paid social media campaigns to acquire new customers or promotions for already existing customers. Not only does a sales strategy benefit the business, it helps team performance, with everyone collectively contributing to the successful execution of a strategy.
Pricing and promotion
There's one common denominator when it comes to customers: they love a promotion or price discount of some sort, so be sure to include this within your sales plan. Promotional offers successfully acquire, convert or retain customers, so the success rate is very high for this. Some types of promotions that you can use include:
Free trial when you sign up
Loyalty programs
Referral programs
Discounts
Track your process
After implementing these goals, in order to decide whether they need to be altered, make space in your diary to measure the progress and results. Keeping track of progress is essential within this process because you can always change or improve something to ensure that you're on track to achieving those desired results.
Benefits of a sales plan
Sales planning is essential for businesses to incorporate; it allows you to keep track of goals and objectives and make informed decisions for your business in the present and the future. This plan can bring many benefits, and whether you've written one before or never have, it's essential that you continue to develop and create them.
Business growth
When it comes to growing your business, one of the first places you should start is creating a sales plan. Your sales team can be the root of escalated business growth, so it's important that goals and objectives are made towards this so that your sales team can actively create strategies to gain more sales. Producing this plan enables you and your team to all work towards the set goals and objectives, and with a strong plan set in stone, this can promote business growth.
Collaboration
A sales plan doesn't just include the sales team; it can include all departments who are all working on their part to reach that ultimate end goal. Acknowledging how each department's contribution affects the other can increase communication levels and team morale. For example, if the marketing department needs some extra time to produce their content, the sales team can move the deadline date. In addition, sharing goals through a sales plan, allows departments to come together and collaborate.
Improved productivity
Creating a sales plan with set deadlines improves productivity as the pressure to meet a set deadline can cause workers to only focus on that specific task and ensure that they complete it. In addition, as a sales plan involves many departments, it gives the employees a feeling of involvement in a business's overall goals, which is motivating, resulting in increased productivity.
Identify risks
A sales plan allows you to identify the risks within your business, whether that is present or future. By identifying the risks, you can then form solutions to avoid this from happening in the future. Not only does this allow your business to prepare for problems in the future, it means that you can set goals and objectives confidently, knowing that they can be achieved,
Improved profitability
With a sales plan creating goals and objectives for multiple departments to work towards, it drives efficiency and productivity, with increased profitability becoming a result.
Sticking to the sales goals and objectives through a written plan allows the business to stay on track to achieve those, all of which lead to an increase in sales and, therefore, an increase in profits.
Sales plan examples
There are actually a few different types of sales plan templates that you can follow. We've listed a few below:
Annual/quarterly/weekly sales plan – This is the most common plan; this features revenue goals, deadlines and tactics.
30/60/90 days plan – This plan is more for setting milestones to be achieved within those specific time periods (30, 60, 90 days).
Market expansion plan – This type of plan outlines and includes target metrics and tasks needed to enter a new market territory, based explicitly on new geographical locations that your target market is in.
New product sales plan – When launching a new product, this type of sales plan is most effective. This plan must include a competitive analysis and a sales strategy.
The key to a successful sales plan
A sales plan can be one of the most valuable documents that you can produce as a company. There is no specific step that can make your sales plan successful, but the only thing you should not do is write it and then never touch it again. You must view your sales plan as a working document that you return to and edit as certain conditions, like the market environment, change.
Our business consutlants suggest that continuously improving and altering your plan gives your business a higher chance of success and increased revenue.
Sales plan FAQ
How often should I edit my sales plan?
This all depends on the position that your business is in and whether drastic changes have happened that have resulted in you needing to tweak a few areas within the plan. However, the majority of businesses will edit or create a new sales plan annually.
How important is a sales plan for a business?
A sales plan is essential for any business within any industry. It's a necessary tool for sales teams to utilise to improve their performance or gain better revenue, with it outlining the strategies and goals to achieve higher profits and more sales.
What is the difference between a sales and a marketing plan?
Although very similar in the way that the end goal of both plans is to increase revenue and sales, they are actually both different in how the plan is executed. A marketing plan is all about identifying your businesses'; target audience and therefore creating strategies to attract them. A sales plan is based upon strategies that will be used to sell their products and services, increasing revenue.
GAIN LINE
GAIN LINE isn't your ordinary business consultancy, our experts guide you through a structured process to challenge you and keep you on track to make sure you come out of our process with tangible, practical actions that you and your team will buy into and have ownership of.
Our Sprint workshops take a deep dive into any business challenge within a protected and committed time-space.
If you want to overcome any business challenge in no more than two weeks, speak to our seasoned business consultancy experts on 0161 532 4449 or contact us here for a speedy response.