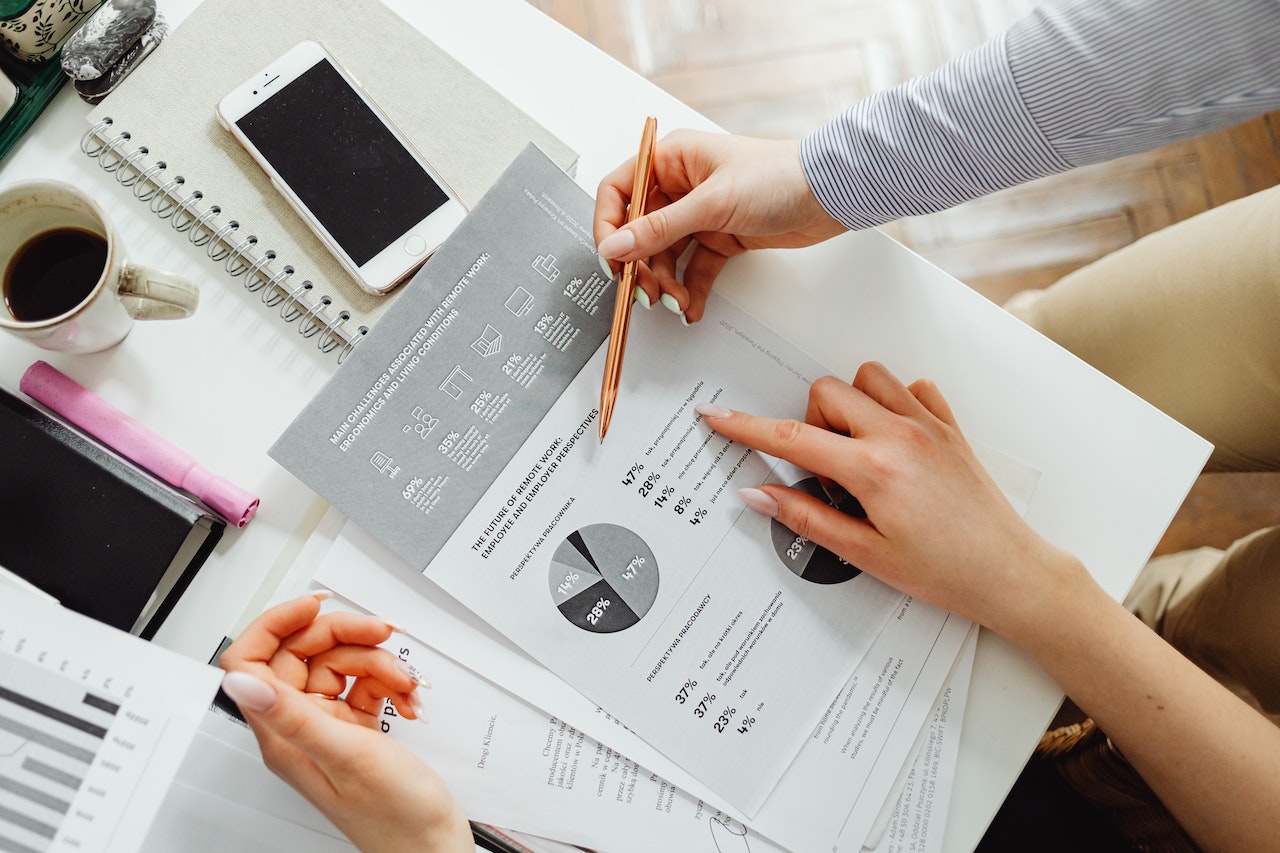 How to measure the success of your B2B marketing
It's crucial that, regardless of the type of business you have, you are tracking the success of your marketing. Commonly, business owners will question whether their marketing is working or if it's effective but unsure of how to measure this. Below, we will walk you through the process of measuring your B2B marketing, but what is known to be a 'good' metric or key performance indicator may not work for you; it all depends on your business, your marketing strategies and what you hope to achieve.
Website Traffic
Website traffic refers to the number of web users who visit your site; this could be through their mobile phone or computer; it is measured through visits or sessions and is an excellent way of measuring an online business's effectiveness. Website traffic is a great indicator of whether your marketing strategies, such as SEO and campaigns, are effective or not. If your campaigns are effective, users will be entering your site, but if your website visits are low, you know that some adjustments need to be made.
Website traffic tools such as Google Analytics can also highlight how long these users are on your website; if it's a short amount of time, this indicates that you need to make some changes, such as site loading speed and ensuring that your site is easy to navigate.
Cost per lead
Cost per lead is the amount of money needed to generate a new customer via your ad or marketing campaign. A lead is an individual who has expressed interest in the product or service you are offering by completing a goal; this digital marketing tool requires the advertiser to pay a pre-established price for each lead generated.
To calculate your cost per lead, divide your marketing spend by your total number of leads. As an example, if you were to put £4000 into a Google Adwords campaign and you had 40 leads, your cost per lead for the campaign would be £100.
Cost per lead is a very effective tool in measuring the success of a B2B campaign as it provides you with data for future campaigns and informs your marketing budget by recognising your most and least expensive tactics.
Social media metrics
Social media is one of the best ways to see how effective your B2B marketing is. Each mainstream social media platform, such as Instagram, X (previously known as Twitter), Facebook and TikTok, will all have a section to analyse your pages' analytics, showing conversion rates, engagement, visitors, etc.
When marketing to your target audience, it's ideal and vital that you utilise these tools to see how well your campaign is doing. If you create a LinkedIn campaign that is going successfully, your page will gain followers and overall engagement.
Sales
This may be obvious, but definitely worth mentioning. To measure the success of any marketing campaign, talk to your sales team and see the conversion rates. You want to look at the closed-won sales and the correct customer acquisition cost for your business to determine a successful campaign.
Customer acquisition cost – is the total sales and marketing cost of earning a new customer to purchase your product or service. You can work out your CAC by marketing spend/number of new customers who came from that campaign.
Marketing Originated customers
Marketing Originated customers refers to customers acquired through marketing efforts; this specific metric shows the success and ROI of your campaigns. This will also encourage your team that their hard work is paying off. This metric is relatively easy to find and requires you to take the total number of customers that have originated from a marketing initiative, such as a campaign, and then divide this by the total number of customers acquired within the same period.
How to reach your B2B customers successfully
Marketing a B2B successfully can be tricky at times; following these five steps can point you toward success.
Niche-driven strategy
One of a business's most significant decisions is finding its niche; this will make you stand out from all your competitors. Finding your niche will make your marketing methods flow easily as you will directly target those you know will be interested in your product and services. Focusing on a more narrow market rather than a broader one increases your chances of success.
High-performing website
A high-performing website is essential for successful B2B marketing. Your website is the base of your online presence, the destination that acquiring customers will be headed after seeing an advert on social media or finding you within the search results of a query. Your website could either convert or deter a potential customer.
To ensure that your website is of high-performing standards, make graphic design a priority; this can aid recall and provide visitors with the association between your design and your brand, ultimately differentiating your business from others, which is one of the best achievements. You also want to ensure that you have a responsive design so that regardless of what device is used to visit your site, it can adapt and display the website well.
Your website must state a clear value proposition for users to see when they land on there. Otherwise, users can leave within 10-20 seconds after losing interest. As well as this, make sure that your site's loading speed is high speed; if a page does not load within the first 3 seconds, users will leave. But site speed also affects SEO and rankings, so it is imperative.
Using SEO
SEO (search engine optimisation) is the process of optimising your website to increase website traffic and conversions. This tool correctly brings your brand visibility across search engines like Google, Microsoft, Bing, and others. The ultimate goal of using this tool is to get visitors to your website who will become customers or clients and stay.
Your target audience needs to locate your website for your marketing to be effective, so SEO is an excellent way for your site to come up at the top of search engine results. When a targeted keyword has been used, and a user searches this, you want your website to be one of the first three results; not only does this indicate trust straight away to the user, but it also brings them to your site. We spoke more about how SEO can promote your brand here.
Some of the benefits that come from using SEO when marketing your B2B business are:
Generate leads
Increased website traffic
Trust
Cost-effective
Social media
Social media is one of your best bets when it comes to marketing your B2B company successfully. With 60% of buyers looking into new service providers on social media, it shows how social media is becoming a platform for information sources compared to recommendations or referrals. Social media is great for reputation building, showcasing your expertise through content and connecting with customers.
Connect and interact with other brands and valuable clients to market successfully on social media. Post regularly to draw attention and prioritise following one theme throughout your content.
LinkedIn is one of the best platforms for B2B customers; according to Hootsuite, 4 out of 5 people on this platform are decision-makers, allowing you to reach the people who make the decisions. As well as this, Hootsuite also found that 40% of B2B marketers said that LinkedIn is the best platform for generating leads, so if you are going to market anywhere, LinkedIn is the best option.
Analytics and reporting
Analytics and reporting are a great source of effective marketing to your B2B customers. You want to understand who your customers are, where they are coming from and what they are most interested in. For example, your customers are more engaged with industry-based content pieces that provide information; if so, you can produce similar content.
There are tools to measure this type of data, such as Google Analytics and social media analytics tools. Use these tools and understand precisely what your customers want from you.
The key to marketing your B2B company successfully
Marketing your B2B company and measuring these metrics successfully can be challenging, so it's not one straight road to achieving this. However, patience, time and research will get you where you need to be. Research precisely who you are targeting; this can be done by looking into competitors and seeing who is engaging with your social media posts. You must also have the patience that things won't work immediately and can take a long time for you to see some results.
FAQ
What tools can I use to measure my B2B marketing efforts?
There are some great tools out there that can provide you with the best information on how your marketing efforts are performing.
Google Analytics – provides insights into website traffic and marketing effectiveness.
Hotjar – They provide information on what users are doing on your site, how far they scroll and what they click on.
Hootsuite – Provide essential insight into your social media channels, such as content engagement, audience growth and followers/likes. As well as this, they also offer scheduling so that your posts can go live automatically.
How long will it take to see results?
This can all depend on many factors, such as the specific campaign you are creating, the target audience and how much money you have put into the campaign. If there are no errors, such as Google not listing you in search results, then it can take between 6-9 months, and at that point, you can begin improving your efforts by using analytics and measuring tools.
When should I check on my marketing metrics?
You want to wait long enough that there are enough results to analyse effectively; this could be after 24 hours, or it could be a week. This answer entirely depends on what marketing campaign you are producing, the results you hope to find and who you are reaching out to. If you are targeting a niche audience, you may not have many results to view, so viewing these metrics could be more effective every two weeks.
GAIN LINE
GAIN LINE isn't your ordinary business consultancy, our experts guide you through a structured process to challenge you and keep you on track to make sure you come out of our process with tangible, practical actions that you and your team will buy into and have ownership of.
Our Sprint workshops take a deep dive into any business challenge within a protected and committed time-space.
If you want to overcome any business challenge in no more than two weeks, speak to our seasoned business consultancy experts on 0161 532 4449 or contact us here for a speedy response.