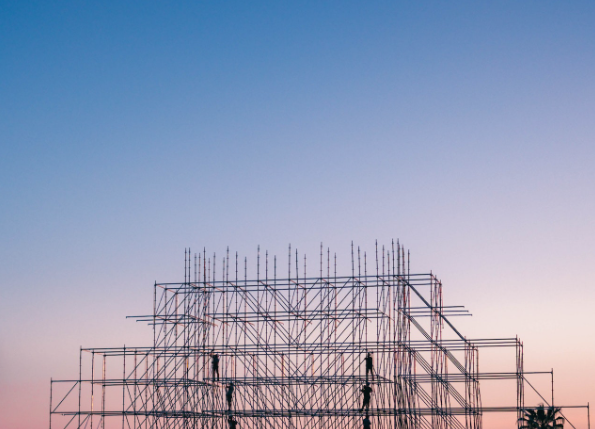 How to grow your construction company in 9 steps
The construction industry can be a difficult place to grow your company, with the UK construction market size being worth £365.9 billion in 2022..
There are a few steps to grow your construction company; you need a strong online presence, utilise appropriate resources and find your niche to beat your competitors. If you want to expand successfully, then follow these nine steps.
Build a great team
Building a solid team of workers is the key to growing your business. How will your business expand if the team isn't pulling their weight equally? In construction, your people are your business; you must hire highly dependable, skilled and knowledgeable employees. Although they must produce high-quality work for your company, you must also reward this to keep productivity and retention rates high.
Marketing strategy
Growing your business requires you to get your company out there and reach new customers; one way to achieve this is by using a marketing strategy. A marketing strategy is a long-term plan that outlines your business's goals by understanding the needs and expectations of your customers whilst also highlighting a competitive advantage.
By creating and implementing a marketing strategy, you can create achievable marketing goals that your business can work towards.
Business strategy
Another essential factor you must implement to grow successfully is a business strategy. In simple terms, a business strategy is a type of plan that highlights and outlines how a company will achieve their desired goals and objectives. A business strategy does not necessarily mean your company will suddenly succeed. Still, it does mean you and your employees will all be on the same page in hitting those targets and enabling you to achieve your goals at a better rate.
Automation
Expanding your business will also require you to develop the number of jobs you will take on board. Automation is an excellent way of making tasks more efficient, allowing time for other jobs to be done. Automating tasks also means less chance of things going wrong.
Everyone can collaborate well on a team by automating manual tasks; for example, employees should be able to use smartphones or other forms of technology to input data/documents, updating the rest of the team whenever and wherever they need them, regardless of whether they are in different locations.
Advertise
Marketing and advertising is definitely something that you should consider when growing your business. Social media is a great place to advertise your services; you can use real authentic imagery of projects you've completed or ongoing projects to showcase exactly what you do. As a part of your growth strategy, build up your online presence using different tactics like content marketing and search engine optimisation (SEO).
Ways you can promote your construction company online:
Publish blogs; this shows your customers a personal side of your business and your potential prospects.
SEO to improve where your website ranks within search results
Use Linkedin, Facebook and Google ads to advertise your business.
Make smart decisions
Often in business, we can make decisions that don't always align with our strategy. It's crucial that when specific problems or even opportunities arise, you take the time to consider these with the success and growth of your business in mind. You mustn't rush or feel pressured into making decisions.
Prioritise customer service
Everyone knows that customer service is one of the main elements of a business that keeps your customers coming back (other than the products and services you offer). Pleasing and meeting your customer's needs should be a top priority within your company; ensure that you are actively communicating with your client on the projects you're working on; this way, you can be equal and make decisions together.
Produce high-quality work
Do not let anything jeopardise the quality of your work, whether that is cutting corners to reach a deadline faster, this could affect your reputation and ruin you and your customer's relationship. Customers would rather have a project finished later than have it completed in a poor manner.
Find your USP
Your unique selling point is what will differentiate you from the competition, so it's crucial to grow your business successfully and find your niche. If you have specialities in a specific area, make sure to shout about this, or if you offer more than one service, let this be known to your audience, as providing more than one service can be a niche in itself.
Why do construction companies struggle to grow?
Not enough employees
Businesses with not enough employees but a lot of work struggle to grow. Sometimes you can get carried away and take on projects, ultimately leading to growth. But, the problem occurs when these projects can not be completed due to an insufficient workforce. Your current team can get burnout and slowly lose motivation as there is too much workload for them to handle. Ensure you have enough budget to hire more employees and only take on projects that fit within the size of your team.
Growing too fast
You wouldn't think that growing too fast could prevent you from growing. Companies face problems when they try to grow too fast without the resources or the team to grow successfully. Expanding too soon into geographical areas, having a broad target audience, and taking on one too many projects can definitely grow your business, but from this, problems arise.
A lack of research, planning and thought can suddenly prevent the success you were aiming for to fail. If you want to expand, move slowly and try out different locations or gradually connect with a few clients at a time, this is more manageable and will be less likely to cause long-term problems.
Outdated business plans
Many businesses will create a business plan, and never touch it again. The market and industry you are working in are constantly adjusting, so it's essential to adapt your business plan in line with what is changing. Updated and current business plans lead to higher focus and productivity levels, ultimately leading to growth.
The key to successfully growing your construction business
Like any business, it's essential to have plans with strategies and goals in place, enabling you and your team to stay on track and maintain focus. But the key to successfully growing your construction business is organisation, understanding the risk and reward, providing excellent service, and patience. Growth in the construction industry takes time, so don't rush into decisions that could impact you negatively in the long run.
FAQ
How can we maintain quality control on all projects?
Quality control plays a huge role in growing your business, since the construction industry solely relies on high quality outputs, it's essential that this is maintained in order to retain customers and keep a strong reputation. To maintain quality control ensure that:
Everyone understands the standards that must be met, from both the client and the business.
A quality control setlist, ensuring that nothing is missed
If problems occur, don't just solve them, but also understand why they have come about and put something in place to prevent this from happening again
Ensure that you communicate clearly and effectively, so that everyone within the team are on the same page when it comes to expectations
How can I go grow my construction business gradually?
As we stated above, growing your construction business needs to be gradual, it takes thought, patience and lots of planning. Ensure that you hire the correct people, take on a manageable workload and focus on the clients you already have, as a long-term relationship is incredibly beneficial than having one-time customers.
What resources can I use to help grow my business?
Hiring a business consultant who can offer expertise, advice and knowledge for you to strategically implement is a great resource.
GAIN LINE
GAIN LINE isn't your ordinary business consultancy, our experts guide you through a structured process to challenge you and keep you on track to make sure you come out of our process with tangible, practical actions that you and your team will buy into and have ownership of.
Our Sprint workshops take a deep dive into any business challenge within a protected and committed time-space.
If you want to overcome any business challenge in no more than two weeks, speak to our seasoned business consultancy experts on 0161 532 4449 or contact us here for a speedy response.